A
banh mi
is a Vietnamese sandwich created on a baguette and filled with thinly sliced carrots, daikon, cucumbers, cilantro, pate and various meat fillings. The most popular sandwiches have roast pork or sausage and are dressed with a spicy mayo-based dressing. The translation of the words
banh mi
are literally
salad sandwich.

I turned this sandwich into a
salad
, cutting out the bread and substituting spicy turkey pepperoni, mini pepperonis and a spicy addition to a simple vinaigrette to sub for the salt-laden pickled vegetables.
Through the Foodbuzz Tastemaker program,
Fresh Express
sent me coupons to get salad and create my own creation.
Fresh Express has an array of salad mixes, blends, and ready-made kits for easy creations.
It was hard to choose just one, but after careful consideration, I chose the
Italian House Kit
which comes with iceberg lettuce, a sprinking of carrots, red Cabbage, and a packet of Italian dressing .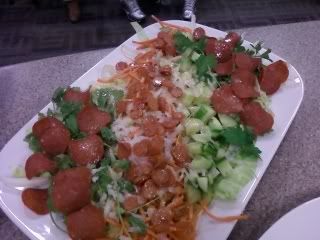 Banh Mi Salad Serves 6
1/2 cup julienned carrot
1/2 cup julienned daikon radish
20 slices Hormel turkey pepperoni
1/2 cup fresh cilantro sprigs
1/2 medium English cucumber, cut lengthwise into chunks
1 package Fresh Express Italian House Kit
Dressing (makes 1 cup)
1 packet Zesty Italian Dressing (from Fresh Express Italian House Kit)
1 tablespoon finely chopped onion
4 teaspoons tabasco-style hot sauce
2 Tablespoons ground ginger
1Tablespoon ground cumin
3 tsp ground coriander
Pinch garlic powder
Pinch ground black pepper
Asian-style chili oil, to taste, optional
In a large salad bowl, combine the first 10 ingredients.
Make the dressing: Place all the ingredients in a blender and mix for about 10 seconds or until fully combined. Transfer to a bowl and let stand for 30 minutes to let the flavors meld. Give the dressing a firm whisk before tossing with salad ingredients. Serve immediately.
To congratulate you and thank you for reading this post, I'd like to offer you a
FREE
coupon for salad, courtesy of Fresh Express and the Foodbuzz Tastemaker Program.
Comment below & add a link to your favorite salad. It can be from another blog, a cooking site, a Facebook page or even a Twitter feed! The first 8 will receive free coupons!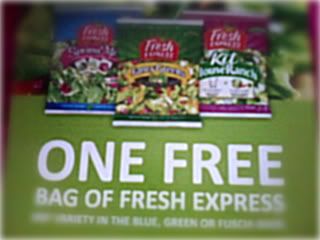 About Me
I'm an award-winning private chef who writes and talks about my life as a food writer, culinarian, podcast host, and food tour guide, I'm a classical French trained chef with a BA in English from East Carolina University and a Culinary Arts Associate Degree from Le Cordon Bleu-Miami. I've worked as a researcher, an editorial assistant, reporter and guest blogger, catering chef, pastry chef, butcher, baker, and a biscuit-maker.
View my complete profile