The end of May brings whispers of late spring, early summer activities and food. May is National Barbeque Month! Did you know? It took me nearly all month to come up with a killer barbeque (or bbq, for lazy
orthographic
artists).
First, let me say a little something about barbeque and what it is:
(n)
bar·be·que: 1) a social gathering at which food is roasted over an open fire 2) a large animal (pig/cow) that is roasted over an open fire, spit, or pit.



(v)
bar·be·que: 1)
to cook pork in a highly seasoned vinegar sauce.

Pork. Always pork. No beef, no chicken.

[this is NOT highly debated in North Carolina.

But

! You have to join one camp or another: do you like it chopped, sliced, pulled; With the red slaw or the green?; Vinegar-based or spicy tomato based? On a bun or with hushpuppies? The possibilities and the fights over authenticity will never end. I'm sure. But you can always join the North Carolina BBQ Society and argue with those folks.]

So...you can either

go

to a barbeque or eat it. But let it be known, that in the South, we eat barbeque. We don't go to one. We go to cookouts. Or just Cook Out.

I took it upon myself to make my own barbeque sauce for all of the meat I plan on roasting over the next 3 months. The wonderful people at POM Wonderful sent me a case of pomegranate juice and I drank a good bit of it, but I knew I needed to save some for culinary purposes.
Fast forward a few weeks and I'm drinking a local soft drink,
Cheerwine
, thinking about how great it'd be in a sauce. Cheerwine is Pennsylvania's equivilant to a
wishniak
. It's only sold in the Carolinas and there really is nothing like it. The fact that it comes in
diet
, makes it a staple in my kitchen. I digress...
So, bright idea #746: Pomegranate-Cheerwine BBQ sauce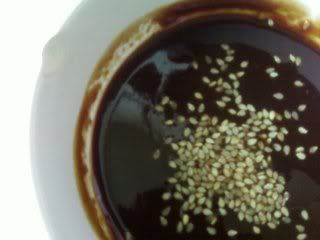 The sesame seeds were just for photogenic quality.

Hey, it looked pretty

.


Pomegranate-Cheerwine BBQ sauce
Reduce equal parts pomegranate juice and Cheerwine (cherry-flavored soda can be substituted here) by 1/2. Add 1 part ketchup, 1 part light brown sugar, 3 cloves of garlic (minced) and white pepper to taste.
The result? A smoky, sweet sauce that goes fantastic on ribs...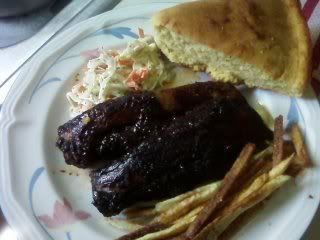 Beef ribs,
cole slaw
,
french fries
,
cornbread
. The only thing missing were baked beans. And maybe a drop or two of
Beano
...
I used equal parts smoked salt, white pepper & my
no-salt shake
[a la Emeril] to rub down the ribs. I let them sit in the fridge for 8 hours before roasting.
Low & Slow: the keys to great ribs. 275 F oven for 3 hours. I basted the ribs after 90 min of cooking & had the sauce available or dipping at the table. Since I don't have my own grill in my tiny apartment, I have to cheat... A) use
the stovetop smoker
or B) use smoked salt.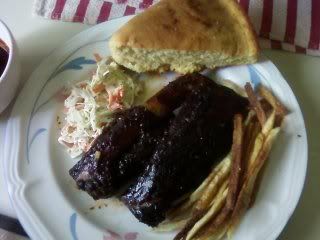 About Me
I'm an award-winning private chef who writes and talks about my life as a food writer, culinarian, podcast host, and food tour guide, I'm a classical French trained chef with a BA in English from East Carolina University and a Culinary Arts Associate Degree from Le Cordon Bleu-Miami. I've worked as a researcher, an editorial assistant, reporter and guest blogger, catering chef, pastry chef, butcher, baker, and a biscuit-maker.
View my complete profile