I've been teaching cooking classes for a little over half a year. My first class, last November, "Soups & Stews" gave me such a rush of energy and excitement, that I knew I belonged in the kitchen, in front of people, sharing my love, skill and craft of food.
Back in early July, I mentioned that a
local TV station
came to interview me and film portions of my monthly cooking class. Well, the video has finally been posted and you can
click here
to get a peek into what I do.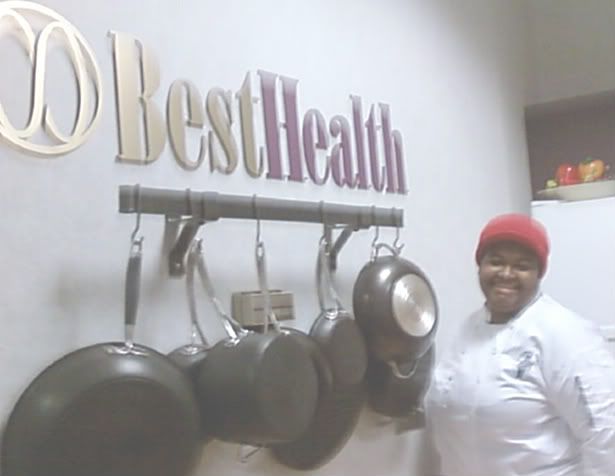 Of course you can see the pics I post and read (and hopefully try) the recipes, but you get to see me in action a little bit. I take pride in telling people that ALL of the recipes I produce at Best Health are of my own creation unless noted (ie the Books & Cooks series). I get inspired by other cooks and their dishes, but everything else is mine.
The design of my blog has changed, how I record my recipes has changed, but not much else.
January:
Heart & Soul Food
February:
Sweet Tooth, Healthy Heart
March:
Books & Cooks: Emeril Lagasse
April:
Books & Cooks: Rachael Ray
May:
Books & Cooks: Paula Deen
June:
Cooking In The Season
and
Passion For Picnics
July:
Made To Marinade
and
Summer Salads
August: Healthy Lunch, Happy Child (Friday, August 15)
The
video
was filmed during July's Made To Marinade class.
I hope you enjoy!
About Me
I'm an award-winning private chef who writes and talks about my life as a food writer, culinarian, podcast host, and food tour guide, I'm a classical French trained chef with a BA in English from East Carolina University and a Culinary Arts Associate Degree from Le Cordon Bleu-Miami. I've worked as a researcher, an editorial assistant, reporter and guest blogger, catering chef, pastry chef, butcher, baker, and a biscuit-maker.
View my complete profile