I'm entering my ultimate cupcake in the ultimate challenge:
Iron Cupcake
. Hosted by Sandy at
No One Puts Cupcake In A Corner
, this month is the first ever global challenge. Every month she hosts a real, live event in Milwaukee, Wisconsin. Since we all can't be there to experience the magic, she is bringing the magic to us in the form of this event.
I'm competing to win prizes from
here
,
there
,
over here
and
over there
, too. I've been stressing out over this little pan of cupcakes all month. These prizes are so incredibly awesome and I desperately want to win any contest I enter, so I brought out the big guns, and made my signature recipe: Chili-Lime Chocolate Cake. The recipe has been tweaked for cupcake-dom because the original cake is a little too moist to enjoy as a cupcake alone. More flour and less liquid, an awesome cupcake do make :)
So, voting will begin on Sunday, August 31st at 12 noon at NO ONE PUTS CUPCAKE
IN A CORNER,
http://mkecupcakequeen.blogspot.com
and will be open throughThursday, September 4 at 12 noon.
Don't think I won't be reminding you incessantly...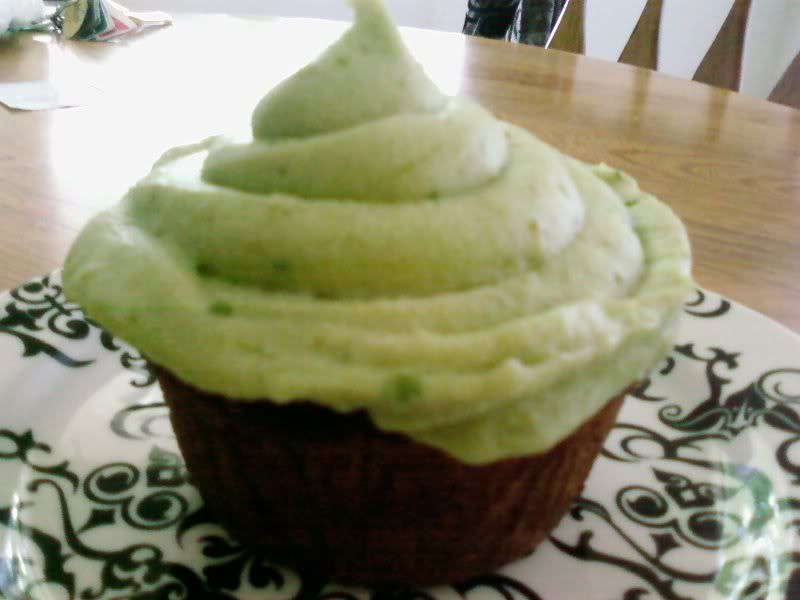 So this luscious little ditty is a lot chocolaty, a little spicy, and cooled down with a sweet, creamy, sumptuous avocado buttercream. The the texture of the avocado makes it perfect to blend in with butter and sugar. The cream doesn't lose it's sheen or color after mixing. It's my best invention yet!
Chili-Lime Chocolate Cupcakes
with Avocado Buttercream
makes 6 cupcakes or 4 giant cupcakes
2 cups cake flour
2 cups Dixie Crystals Extra Fine Granulated Sugar
1 cup (2 sticks) unsalted butter
1/4 cup cocoa powder
1/2 cup lime juice
1/2 cup buttermilk
1 tsp baking soda
4 Tbs chili powder
1 tsp vanilla extract
2 eggs
1 tsp salt
Sift flour and sugar into large bowl.
Bring butter, cocoa, and lime juice, to a boil in saucepan. Alternatively, using a heat-safe mixing bowl, warm in the microwave on HIGH for 2 1/2 minutes. Pour over flour mixture and mix well. Add buttermilk, baking soda, chili powder, vanilla, eggs and salt and mix well.
Pour into greased and floured muffin tin. Bake at 400 degrees F for 16 to 20 minutes or until wooden pick inserted near center comes out clean.
Let all ingredients come to room temperature before starting.
Avocado Buttercream
makes 2 cups
2 large avocado, ripe, pitted
2 tsp lime juice
1 cup unsalted butter, cut into cubes, room temperature
16 oz confectioners' sugar
Combine all the ingredients in large mixing bowl and whisk or mix at slow speed until smooth. If stiffer icing is needed, or if the weather is very warm, add a little extra sugar. Firm up buttercream in refrigerator until it is just pliable enough to not melt when decorating the cupcakes.
After decorating cupcakes, place in refrigerator to set icing.
About Me
I'm an award-winning private chef who writes and talks about my life as a food writer, culinarian, podcast host, and food tour guide, I'm a classical French trained chef with a BA in English from East Carolina University and a Culinary Arts Associate Degree from Le Cordon Bleu-Miami. I've worked as a researcher, an editorial assistant, reporter and guest blogger, catering chef, pastry chef, butcher, baker, and a biscuit-maker.
View my complete profile